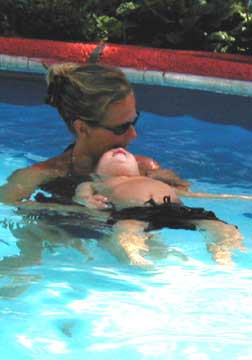 This class is usually for babies of 12 months old and up, also including anyone who may fall into the following categories:
Are afraid of the water, does not like having face or head wet, will not go under the water
Have never had any formal instruction, or have had inadequate lessons in the past.
Are familiar with arm floats or other floatation devices which are absolutely not used in this program
Swims "doggie paddle, which is also a "no no"
Basically knows nothing about swimming.
In this class children learn the basics that are mandatory to moving to the next level. These will include:
Resting on their back, unaided by a teacher
Learning to be "still and quiet" in the water
Jumping into the pool and rolling over to their back and resting
Swimming 8 to 10 feet with their face down and their legs up in the prone position.
All of these skills being accomplished with a happy disposition.
It is wise to start your children as young as possible. As soon as they can sit up by themselves, they need to be in lessons. This will make it much easier on the child and the parent. The key to all of these skills is practice, practice, practice!